Axces has designed, engineered and produced the five complete air intake and exhaust systems for 20MW Emergency Power of a Nuclear Powerplant.
The emergency power supply of the powerplant consists of 5 diesel engines with a power output of 6.500kW each.
That power is used to cool the nuclear reactor in times of grid power failures and emergency situations and were designed according to
IAEA (International Atomic Energy Agency) safety standards.


The scope of the delivery included:
Ultra low noise Air Intake System
High attenuation Exhaust System with integrated Exhaust Silencer
Freestanding, earthquake proof and CE Marked Chimney
All of the components of the system have been delivered in compliance with ultra srict quality and safety regulations.

The complete exhaust system was calculated using extensive CFD Analyses in order to fulfil the powerplant requirements with regards to
Back Pressure, Attenuation of the exhaust silencer and total noise levels at the exhaust outlet.
In order to assure the lifetime and safety the following verification and validations were done:
Dynamic Load Analyses on the structure due to vibrations and gas pulsations (High Cycle Fatigue)
Proof Load analyses
Thermal load analyses (Low Cycle Fatique)
Lifting lug strength analyses
Modal Analyses
Harmonic Analyses in order to verify Modal Frequency Requirements
Seismic analyses of the chimney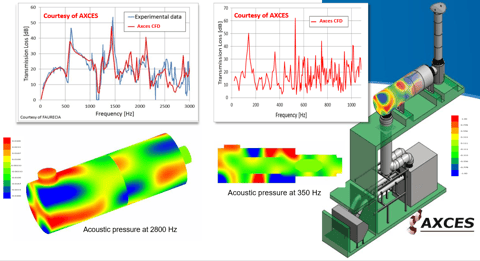 In order to verify and guarantee the required noise levels of the plant, Axces carried out analyses of the Transmission and Insertion loss over the exhaust silencer as well as the complete exhaust system. Using 3D models and complex calculations, the strict noise level at the outlet of the chimney were in compliance.
Besides the exhaust noise of the system, the following technical analyses were done:
Tailpipe Noise
Flow Induced Noise
Body Radiated Noise
Pressure Loss over the complete system
Thermal Expansion
Heat radiation of the system
Reduction in Vibration transferred to the structure

---
Questions?
Please feel free to contact us for more information.
---